In his capacity as a professional truck driver in February 2012, Mike was tarping his flatbed load in wind and rain when he fell off his flatbed. His 6-foot fall onto concrete resulted in a severe injury that led to his giving this Young Living testimonial about the power of 100% pure, therapeutic grade essential oils. This is his story…
Mike Simons's Young Living Testimonial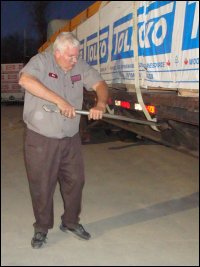 Hello, I'm Mike Simons. I have over 16 years of professional truck driving experience. I have driven team with my wife Vicki and as a solo driver. For a brief time, I also served as a driver trainer. I have traveled throughout the lower 48 contiguous states in the USA and also into Ontario, Canada. My truck driving jobs have included lengths of haul considered to be long haul/OTR, regional and local. I've hauled dry vans, refrigerated vans, double trailers, tankers and flatbed trailers.
There are millions of truckers who haul products upon which people depend for their daily lives, including food, clothing, gasoline, building products, medical products, and the like. In America, about 70% of our goods move by truck and any interruption in that flow could be detrimental and costly. We drivers must be able to do our jobs well. When a trucker is injured, movement of the freight in or on his or her truck comes to a grinding, screeching halt. Such was what happened to me in late February 2012.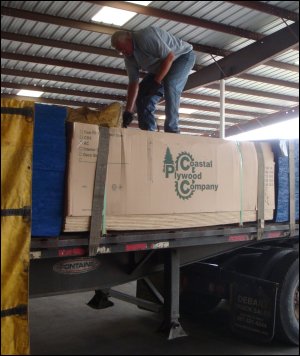 I was taking care of a load from up on my flatbed when I fell about 6 feet onto concrete. I injured my left arm and side so badly that I sustained a cracked rib and thought I had torn my rotator cuff. The intense pain was the worst I'd ever experienced. Obviously, I would be out of work — and our livelihood would be threatened — but for how long?
An MRI confirmed that the Lord had spared me from having a torn rotator cuff, but my injury was so bad that for over a week, I was unable to lift my left arm far enough away from my body to put on deodorant. Vicki had to help me with basic tasks such as putting on clothing and taking a shower.
Besides the immense physical pain I was in, I had the mental anguish of not being able to do the things I was used to doing and not knowing if I would ever recover sufficiently to drive professionally again.
Mindset Nearly Prevents Young Living Testimonial
My only options for easing my sore muscles were either natural or man-made. For a period of time, I used the pharmaceuticals that had been prescribed for me at the hospital the night I was injured. But I wanted to get off of those as soon as possible.
Why?
Vicki and I would rather not use pharmaceuticals and drugs because they are manufactured, not natural, and because they almost always have unpleasant side effects. Furthermore, some pain killers can be highly addictive and I didn't want to be tied to them any longer than absolutely necessary.
Our personal dislike of drugs didn't mean that we were ready to try just anything. We've been around long enough to know that there are plenty of folks hawking their wares. (Recall the old Andy Griffith episode entitled "Aunt Bee's Medicine Man.")
I was so badly injured that I didn't attend church activities the first weekend after the accident. A friend from church offered Vicki an essential oil blend that could help support my muscular system. Because she didn't explain what essential oils are or how powerful the 100% pure, therapeutic grade kind are, Vicki declined her offer.
However, the next week, when I was with her, our friend gently offered the essential oil sample again. We had nothing to lose except my pain and limited mobility. So we accepted the sample. Following our friend's instructions for diluting it in a carrier oil, Vicki began to apply the essential oil mixture to my sore muscles.
Paradigm Shift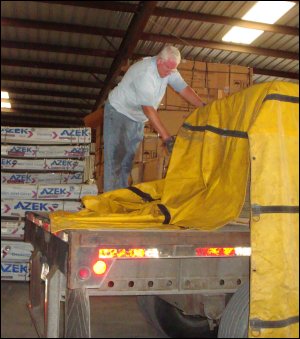 Truly, the essential oil blend helped relieve my soreness! We ended up ordering more. Over a period of the next 6.5 weeks, Vicki kept periodically applying the diluted essential oil on my body as I worked step-by-step to regain full mobility.
The Lord deserves the full credit for healing me, in significant part through the Young Living Essential Oil blend named PanAway. From that time on, Vicki and I referred to me as the "Healed Trucker."
We had such a good experience with that one product that we started ordering and using other products from Young Living Essential Oils.
Furthermore, after catching a vision of how others can personally benefit from using Young Living's pure, therapeutic grade essential oils — for wellness, purpose and abundance — we became Independent Distributors.
I firmly believe that many more people could give a Young Living testimonial — for wellness, purpose and abundance. We would love to be able to help you. Please contact us if you need more info.