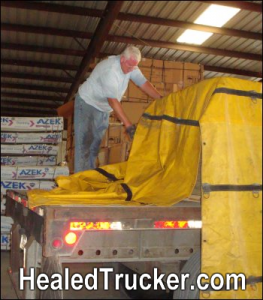 Welcome to MrSimons.com and HealedTrucker.com.
We began teaching people how to achieve wellness, purpose and abundance in a most unusual way: as the result of Mike's full recovery from a severe on-the-job trucking accident in February 2012.
The Lord healed Mike completely in significant part due to a sample of one of Young Living's essential oil blends and more of that product which we purchased.
That's why we refer to him as the "Healed Trucker".
You may read more about us and our paradigm shift regarding essential oils.
You may also read Vicki's account about how she awakened from self-inflicted toxicity.
You may request the document that prompted Vicki to undergo her detoxification here.
---
This video is a very condensed overview of why we're involved with Young Living Essential Oils.
---
If you had to pick one right now, which of these three would you say is most important to you:
wellness (products that promote health and healing — or helping folks save money on health care);
purpose (having a cause greater than yourself that you can believe in and support with no reservations); or
abundance (earning more money for whatever needs you have — or to fund a hobby, replace your current income or even build wealth)?
Did you know that you can have all three at the same time?
Even so, please pick the area that is most important to you in order to learn more:


For full disclosure:
We are not medical professionals. The information on this site is for educational purposes only. Please do not ask us to diagnose, treat, or refer you to certain oils for any diseases. We strongly recommend that you do your own research about essential oils.
If you are on any prescription medication or have a medical condition whatsoever, always consult your health care practitioner first. These statements have not been evaluated by the Food and Drug Administration (FDA), and are not intended to treat, diagnose, or cure disease. A decision to use/not use this information is your sole responsibility. Views expressed on this website apply only to Young Living Essential Oils.
There is a lot of information about essential oils that we can't talk about and much that can be found online as well through countless reference materials, both free and paid. So that you may discover the therapeutic benefits which this essential oil may impart, we strongly encourage you to research
– ancient and historical resources including the Bible, the Ebers Papyrus and Egyptian papyri;
– the use of the plants from which essential oils come — or the essential oils themselves — by people in other ages, cultures and countries;
– PubMed.gov, which is "a free search engine accessing primarily the MEDLINE database of references and abstracts on life sciences and biomedical topics", which is maintained by "The United States National Library of Medicine (NLM) at the National Institutes of Health"; and
– other resources that provide authoritative information about 100% pure, therapeutic grade essential oils.